The Hazel Wood by Melissa Albert. January 30, 2018. Flatiron Books, 368 p. ISBN: 9781250147905.  Int Lvl: YA; Rdg Lvl: YA; Lexile: 760.
Seventeen-year-old Alice and her mother have spent most of Alice's life on the road, always a step ahead of the uncanny bad luck biting at their heels. But when Alice's grandmother, the reclusive author of a cult-classic book of pitch-dark fairy tales, dies alone on her estate, the Hazel Wood, Alice learns how bad her luck can really get: her mother is stolen away―by a figure who claims to come from the Hinterland, the cruel supernatural world where her grandmother's stories are set. Alice's only lead is the message her mother left behind: "Stay away from the Hazel Wood."
Alice has long steered clear of her grandmother's cultish fans. But now she has no choice but to ally with classmate Ellery Finch, a Hinterland superfan who may have his own reasons for wanting to help her. To retrieve her mother, Alice must venture first to the Hazel Wood, then into the world where her grandmother's tales began―and where she might find out how her own story went so wrong.
Part of series: The Hazel Wood (Book 1)
Potentially Sensitive Areas: Strong language, Violence, Underage drinking, Smoking, Gore
Book Trailer
Author Interview
Reviews
Booklist starred (November 15, 2017 (Vol. 114, No. 6))
Grades 9-12. Some fairy tales ask to be lived in. They involve enchanted forests and handsome princes, talking animals, kind maidens, and wishes come true. Others are darker. Others have teeth. The Hinterland is one such savage place, not that Alice would know—she hasn't read Tales from the Hinterland, the book penned by a grandmother she's never met. They aren't children's stories, her mother, Ella, says, and besides, the book itself is infamously elusive. Alice, quick to anger with a heart of ice, has spent her 17 years in constant motion; trailed by bad luck, she and Ella move from place to place, never staying anywhere long enough to put down roots. But when Ella is taken suddenly, the lines between the real world and the Hinterland start to blur. Faced with the loss of the only person she's ever loved, Alice must rely on Ellery Finch, the kind of Tales from the Hinterland superfan she's always avoided, to help her track down the world she thought existed only in her grandmother's imagination. In this unsettling debut, Albert takes familiar stories and carefully pulls them apart; the end result is a sort of deconstructed fairy tale that, despite its familiarity, gets under the skin. Highly literary, occasionally surreal, and grounded by Alice's clipped, matter-of-fact voice, it's a dark story that readers will have trouble leaving behind.
Kirkus Reviews starred (October 15, 2017)
A ferocious young woman is drawn into her grandmother's sinister fairy-tale realm in this pitch-black fantasy debut.Once upon a time, Althea Proserpine achieved a cult celebrity with Tales from the Hinterland, a slim volume of dark, feminist fairy tales, but Alice has never met her reclusive grandmother nor visited her eponymous estate. Instead, she has spent her entire 17 years on the run from persistent bad luck, relying only on her mother, Ella. Now Althea is dead and Ella has been kidnapped, and the Hinterland seems determined to claim Alice as well. The Hinterland—and the Stories that animate it—appear as simultaneously wondrous and horrific, dreamlike and bloody, lyrical and creepy, exquisitely haunting and casually, brutally cruel. White, petite, and princess-pretty Alice is a difficult heroine to like in her stormy (and frequently profane) narration, larded with pop-culture and children's-literature references and sprinkled with wry humor; her deceptive fragility conceals a scary toughness, icy hostility, and simmering rage. Despite her tentative friendship (and maybe more) with Ellery Finch, a wealthy biracial, brown-skinned geek for all things Althea Proserpine, any hints of romance are negligible compared to the powerful relationships among women: mothers and daughters, sisters and strangers, spinner and stories; ties of support and exploitation and love and liberation. Not everybody lives, and certainly not "happily ever after"—but within all the grisly darkness, Alice's fierce integrity and hard-won self-knowledge shine unquenched. (Fantasy. 16-adult)
About the Author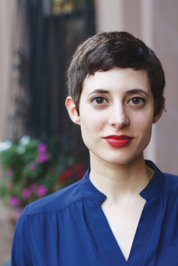 Melissa Albert is the founding editor of the Barnes & Noble Teen Blog and the managing editor of BN.com. She has written for McSweeney's, Time Out Chicago, MTV, and more. Melissa is from Illinois and lives in Brooklyn, New York. The Hazel Wood is her first novel.
Around the Web
The Hazel Wood on Amazon
The Hazel Wood on Goodreads
The Hazel Wood Publisher Page