Spineless: The Science of Jellyfish and the Art of Growing a Backbone by Juli Berwald. November 7, 2017. Riverhead Books, 352 p. ISBN: 9780735211261.  Int Lvl: AD; Rdg Lvl: AD.
A former ocean scientist goes in pursuit of the slippery story of jellyfish, rediscovering her passion for marine science and the sea's imperiled ecosystems.
Jellyfish have been swimming in our oceans for well over half a billion years, longer than any other animal that lives on the planet. They make a venom so toxic it can kill a human in three minutes. Their sting–microscopic spears that pierce with five million times the acceleration of gravity–is the fastest known motion in the animal kingdom. Made of roughly 95 percent water, some jellies are barely perceptible virtuosos of disguise, while others glow with a luminescence that has revolutionized biotechnology. Yet until recently, jellyfish were largely ignored by science, and they remain among the most poorly understood of ocean dwellers.
More than a decade ago, Juli Berwald left a career in ocean science to raise a family in landlocked Austin, Texas, but jellyfish drew her back to the sea. Recent, massive blooms of billions of jellyfish have clogged power plants, decimated fisheries, and caused millions of dollars of damage. Driven by questions about how overfishing, coastal development, and climate change were contributing to a jellyfish population explosion, Juli embarked on a scientific odyssey. She traveled the globe to meet the biologists who devote their careers to jellies, hitched rides on Japanese fishing boats to see giant jellyfish in the wild, raised jellyfish in her dining room, and throughout it all marveled at the complexity of these alluring and ominous biological wonders.
Gracefully blending personal memoir with crystal-clear distillations of science, Spineless is the story of how Juli learned to navigate and ultimately embrace her ambition, her curiosity, and her passion for the natural world. She discovers that jellyfish science is more than just a quest for answers. It's a call to realize our collective responsibility for the planet we share.
Potentially Sensitive Areas: None
Author Discussion
Reviews
Booklist (October 1, 2017 (Vol. 114, No. 3))
Jellyfish are so alien to us as spinal cord-bearing, land-based animals that we can't envision how a brainless blob of jelly can even be alive, let alone move, eat, and behave like an animal. And yet there are several thousand species of jellies in the world's waters, and their enigmatic lives fuel the fascination of science writer Berwald in her quest to understand their role in the fate of the oceans. The author first became enamored of marine biology during a field course in the Red Sea, but marriage and kids sidetracked her into writing textbooks and science articles. Stumbling across jellyfish while writing for National Geographic, she discovered an obsession that took her around the world to talk to the scientists who study jellies. She swam with jellies, watched how quickly they disintegrate in fishers' nets, ate them in Japan, and kept them in a home aquarium, and as she revels in these spineless animals, she teaches us to delight in them, too.
Kirkus Reviews (September 15, 2017)
A close look at the biology and behavior of jellyfish combined with a personal history of the author, a former ocean scientist who was pulled back to the sea by these enigmatic creatures.As science writer Berwald notes, details about jellyfish—whose species number in the hundreds—are scant in comparison with what is known about other marine animals despite the fact that they have been on Earth for at least 500 million years. Because they reproduce quickly and can adapt to different environments, they're notorious for disrupting ocean ecosystems and devastating fishing economies. For beachgoers, they are often just nuisances with a painful sting. But the further the author dives into her research, the more she suspects that jellyfish behavior may provide clues about how the Earth's changing climate is affecting ocean life. In addition, jellies have sophisticated propulsion systems and collagen-based bodies that may guide bioengineers in developing new products. In this appealing combination of solid science writing, investigative journalism, and memoir, Berwald chronicles her travels around the globe interviewing leading jellyfish experts and viewing all types of jellies in aquariums and native habitats. What the author discovered is that jellyfish science is growing as it becomes more apparent that the animals are a robust source of information about the ocean's conditions as well as many other facets of the natural world. After years of research, Berwald is convinced that "to research jellyfish is not just to look at a creature unfamiliar and bizarre to most, but to study the planet and our place in it." While writing this lucid, eye-opening book, the author discovered that her place was, in part, inextricably entangled with jellyfish. In this lovely exploration of the mysterious jellyfish, Berwald both entrances and sounds a warning: pay attention to the messages sent by ocean life, and act to protect their environment, and ours.
About the Author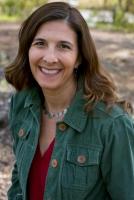 Juli Berwald received her Ph.D. in Ocean Science from the University of Southern California. A science textbook writer and editor, she has written for a number of publications, including The New York Times, Nature, National Geographic, and Slate.
She lives in Austin with her husband and their son and daughter. Her website is www.juliberwald.com
Teacher Resources
Jellyfish Lesson Plans
Around the Web
Spineless on Amazon
Spineless on Goodreads
Spineless Publisher Page