Lovely War by Julie Berry. March 5, 2019. Viking Books for Young Readers, 480 p. ISBN: 9780451469939.  Int Lvl: YA; Rdg Lvl: YA; Lexile:.
Read the novel New York Times bestselling author of The Alice Network Kate Quinn called "easily one of the best novels I have read all year!" A sweeping, multi-layered romance set in the perilous days of World Wars I and II, where gods hold the fates–and the hearts–of four mortals in their hands.
They are Hazel, James, Aubrey, and Colette. A classical pianist from London, a British would-be architect-turned-soldier, a Harlem-born ragtime genius in the U.S. Army, and a Belgian orphan with a gorgeous voice and a devastating past. Their story, as told by goddess Aphrodite, who must spin the tale or face judgment on Mount Olympus, is filled with hope and heartbreak, prejudice and passion, and reveals that, though War is a formidable force, it's no match for the transcendent power of Love.
Potentially Sensitive Areas: Harsh realities of war, Mild language, Mild sexual themes, Racism, Sexual assault, Violence, Racial slurs
Reviews
Kirkus Reviews starred (January 1, 2019)
Love's enduring power faces off against the horrors of war in this sumptuous Greek mythology–inspired romantic page-turner. In a Manhattan hotel on the eve of World War II, Hephaestus catches his wife, Aphrodite, in a compromising position with his brother Ares. To exonerate herself of the crime of adultery, she weaves an intricate tale of mortal love during wartime that demonstrates the endurance of the human spirit. Vacillating between the present and the past, the goddess's narrative centers on Aubrey, an African-American musician; Colette, a Belgian singer; Hazel, a wide-eyed British pianist; and her paramour, James, an aspiring architect (the latter three are white), who are all brought together by happenstance during the First World War. The resulting interweaving story is an epic of Shakespearean emotional depth and arresting visual imagery that nonetheless demonstrates the racism and sexism of the period. Scheherazade has nothing on Berry (The Emperor's Ostrich, 2017, etc.), whose acute eye for detail renders the glittering lights of Paris as dreamlike in their beauty as the soul-sucking trenches on the French front are nightmarishly real. The mortal characters are all vibrant, original, and authentic, but none is more captivating than the goddess of love herself, who teaches her husband that love is an art form worthy of respect and admiration. An unforgettable romance so Olympian in scope, human at its core, and lyrical in its prose that it must be divinely inspired. (Fiction. 13-adult)
Publishers Weekly (December 24, 2018)
Berry (The Passion of Dolssa) brings to life wartime horrors and passions with commentary from Olympian gods in this love story filled with vivid historical detail. To show her husband, Hephaestus, the real meaning of love and its connection to war and art, Aphrodite (with the help of Apollo, Hades, and Ares) tells the emotion packed WWI saga of two besotted couples drawn together by music and war: British pianist Hazel and soldier James; African American jazz musician Aubrey and Colette, a Belgian war orphan with a remarkable singing voice. After James reports to duty, Hazel follows, taking a wartime volunteer position in France. There, she meets Colette, who is still reeling from her wartime losses, and introduces her to Aubrey, who quickly steals Colette's heart. James and Aubrey witness horrors on and off the battlefield, and Hazel and Colette cling to each other during the best of times, such as when Hazel has the opportunity for a brief reunion with James, and the worst, as when Aubrey goes missing. Berry's evocative novel starts slow but gains steam as the stories flesh out. Along the way, it suggests that while war and its devastation cycles through history, the forces of art and love remain steady, eternal, and life sustaining. Ages 12&up.
About the Author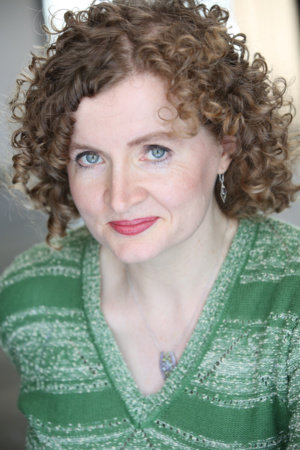 Julie Berry is the author of the 2017 Printz Honor and Los Angeles Times Book Prize shortlisted novel The Passion of Dolssa, the Carnegie and Edgar shortlisted All the Truth That's in Me, and many other acclaimed middle grade novels and picture books. She holds a BS from Rensselaer in communication and an MFA from Vermont College. She lives in Southern California with her family.
Her website iswww.julieberrybooks.com
Around the Web
Lovely War on Amazon
Lovely War on Barnes and Noble
Lovely War on Goodreads
Lovely War on LibraryThing
Lovely War Publisher Page