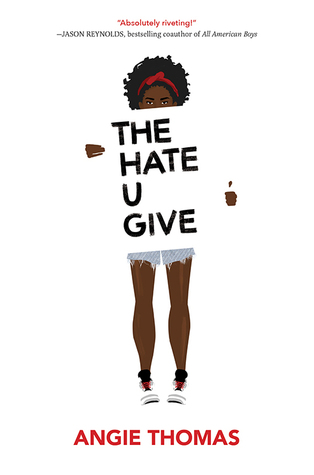 The Hate U Give by Angie Thomas. February 28, 2017. Balzer + Bray, 444 p. ISBN: 9780062498533.  Int Lvl: YA; Rdg Lvl: YA; Lexile: 590.
Sixteen-year-old Starr Carter moves between two worlds: the poor neighborhood where she lives and the fancy suburban prep school she attends. The uneasy balance between these worlds is shattered when Starr witnesses the fatal shooting of her childhood best friend Khalil at the hands of a police officer. Khalil was unarmed.
Soon afterward, his death is a national headline. Some are calling him a thug, maybe even a drug dealer and a gangbanger. Protesters are taking to the streets in Khalil's name. Some cops and the local drug lord try to intimidate Starr and her family. What everyone wants to know is: what really went down that night? And the only person alive who can answer that is Starr.
But what Starr does or does not say could upend her community. It could also endanger her life.
Potentially Sensitive Areas: Strong language, Mild sexual themes, Racially motivated shooting, Discussion of racist jokes, Marijuana
Author Interview
Reviews
Booklist starred (December 15, 2016 (Vol. 113, No. 8))
Grades 9-12. Sixteen-year-old Starr lives in two very different worlds: one is her home in a poor black urban neighborhood; the other is the tony suburban prep school she attends and the white boy she dates there. Her bifurcated life changes dramatically when she is the only witness to the unprovoked police shooting of her unarmed friend Khalil and is challenged to speak out—though with trepidation—about the injustices being done in the event's wake. As the case becomes national news, violence erupts in her neighborhood, and Starr finds herself and her family caught in the middle. Difficulties are exacerbated by their encounters with the local drug lord for whom Khalil was dealing to earn money for his impoverished family. If there is to be hope for change, Starr comes to realize, it must be through the exercise of her voice, even if it puts her and her family in harm's way. Thomas' debut, both a searing indictment of injustice and a clear-eyed, dramatic examination of the complexities of race in America, invites deep thoughts about our social fabric, ethics, morality, and justice. Beautifully written in Starr's authentic first-person voice, this is a marvel of verisimilitude as it insightfully examines two worlds in collision. An inarguably important book that demands the widest possible readership.
Kirkus Reviews starred (December 15, 2016)
Sixteen-year-old Starr Carter is a black girl and an expert at navigating the two worlds she exists in: one at Garden Heights, her black neighborhood, and the other at Williamson Prep, her suburban, mostly white high school. Walking the line between the two becomes immensely harder when Starr is present at the fatal shooting of her childhood best friend, Khalil, by a white police officer. Khalil was unarmed. Khalil's death becomes national news, where he's called a thug and possible drug dealer and gangbanger. His death becomes justified in the eyes of many, including one of Starr's best friends at school. The police's lackadaisical attitude sparks anger and then protests in the community, turning it into a war zone. Questions remain about what happened in the moments leading to Khalil's death, and the only witness is Starr, who must now decide what to say or do, if anything. Thomas cuts to the heart of the matter for Starr and for so many like her, laying bare the systemic racism that undergirds her world, and she does so honestly and inescapably, balancing heartbreak and humor. With smooth but powerful prose delivered in Starr's natural, emphatic voice, finely nuanced characters, and intricate and realistic relationship dynamics, this novel will have readers rooting for Starr and opening their hearts to her friends and family. This story is necessary. This story is important. (Fiction. 14 & up)
About the Author
Angie Thomas was born, raised, and still resides in Jackson, Mississippi as indicated by her accent. She is a former teen rapper whose greatest accomplishment was an article about her in Right-On Magazine with a picture included. She holds a BFA in Creative Writing from Belhaven University and an unofficial degree in Hip Hop. She can also still rap if needed. She is an inaugural winner of the Walter Dean Meyers Grant 2015, awarded by We Need Diverse Books. Her debut novel, The Hate U Give, was acquired by Balzer + Bray/HarperCollins in a 13-house auction. Film rights have been optioned by Fox 2000 with George Tillman attached to direct and Hunger Games actress Amandla Stenberg set to star.
Her website is www.angiethomas.com
Teacher Resources
The Hate U Give Discussion Guide
Around the Web
The Hate U Give on Amazon
The Hate U Give on Goodreads
The Hate U Give on JLG
The Hate U Give Publisher Page