Cool Day in the Sun by Sara Biren. March 12, 2019. Amulet Books, 320 p. ISBN: 9781419733673.  Int Lvl: YA; Rdg Lvl: YA.
Holland Delviss wants to be known for her talent as a hockey player, not a hockey player who happens to be a girl. But when her school team is selected to be featured and televised as part of HockeyFest, her status as the only girl on the boys' team makes her the lead story. Not everyone is thrilled with Holland's new fame, but there's one person who fiercely supports her, and it's the last person she expects (and definitely the last person she should be falling for): her bossy team captain, Wes.
Potentially Sensitive Areas: Discrimination, Mild sexual themes, Strong language, Underage drinking
Reviews
Booklist (February 1, 2019 (Vol. 115, No. 11))
Grades 8-11. Holland has always had to prove she was talented enough to play with the guys. Now, as a member of her high school's boy's hockey team, that means giving 100 percent on the ice, and trying to ignore any disapproving comments. Keeping her head in the game wouldn't be so tough if the cocaptain Wes wasn't always on her case. But when they bond over a love of '80s music, she starts considering breaking her "no dating teammates" rule. Biren​'s (The Last Thing You Said, 2017) latest is a fun read that simultaneously puts the reader into the hockey world as an insider and an outsider. Holland and her teammates are introduced in a swirl of nicknames and maneuvers, while her struggle to feel completely at home is explored poignantly. Though what it means to be the girl on a boys team is a constant theme, it's a last-act gut punch that really puts a spotlight on what female athletes have to deal with. A must-read for anyone who has had to defy expectations.
Kirkus Reviews (January 1, 2019)
It's not easy being the only girl on the boys' varsity hockey team. It's especially difficult when your arrogant team captain calls you a nickname you hate, townspeople are free with their opinions about how you shouldn't be allowed to play with the boys, and your journalism teacher is riding you hard about the articles you're producing. Holland isn't having a great time of it, and when that same arrogant team captain turns out to be the piece that's been missing in her life—well, love doesn't exactly make things any easier. Now, in addition to having to prove herself over and over in terms of her hockey skills, she also has to prove that she isn't getting special favors because she's dating the captain. A fun romp of a teen romance via an exciting hockey season, this book has all the right ingredients—a spunky, multifaceted main character, a love interest who turns out to be a decent individual, and plenty of internal and external conflict. Some of the lines feel a little timeworn, but overall the plot whips along with verve, driven by fully embodied characters who chase after love like they're chasing after a puck. The cast presents as white and includes a gay partnership. A teenage love story steamy enough to melt the ice in the rink. (Fiction. 14-18)
About the Author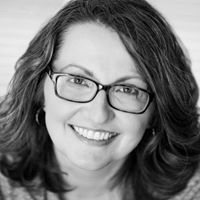 Sara Biren lives just outside of Minneapolis, Minnesota, with her husband and their two children. A true Minnesotan, she is a fan of hockey, hotdish, and hanging out at the lake. She enjoys seeing live bands, watching movies with her family, and drinking coffee. Her love of cheese knows no bounds.
Sara is a graduate of the University of Minnesota, Duluth, on the shores of beautiful Lake Superior, and earned an MFA in Creative Writing from Minnesota State University, Mankato.
Her website is www.sarabiren.com
Around the Web
Cold Day in the Sun on Amazon
Cold Day in the Sun on Barnes and Noble
Cold Day in the Sun on Goodreads
Cold Day in the Sun on LibraryThing
Cold Day in the Sun Publisher Page