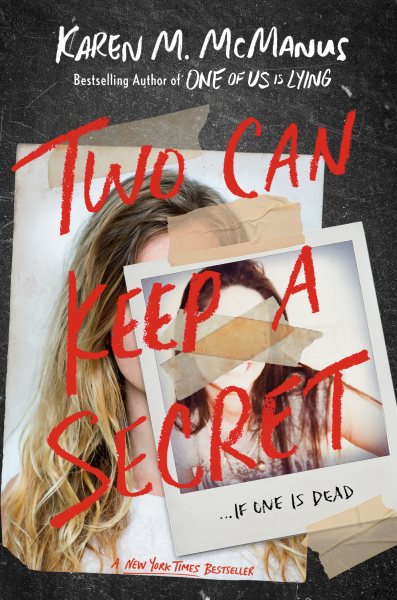 Two Can Keep a Secret by Karen M. McManus. January 8, 2019. Delacorte Press, 336 p. ISBN: 9781524714734.  Int Lvl: YA; Rdg Lvl: YA; Lexile: 730.
Echo Ridge is small-town America. Ellery's never been there, but she's heard all about it. Her aunt went missing there at age seventeen. And only five years ago, a homecoming queen put the town on the map when she was killed. Now Ellery has to move there to live with a grandmother she barely knows.
The town is picture-perfect, but it's hiding secrets. And before school even begins for Ellery, someone has declared open season on homecoming, promising to make it as dangerous as it was five years ago. Then, almost as if to prove it, another girl goes missing.
Ellery knows all about secrets. Her mother has them; her grandmother does too. And the longer she's in Echo Ridge, the clearer it becomes that everyone there is hiding something. The thing is, secrets are dangerous–and most people aren't good at keeping them. Which is why in Echo Ridge, it's safest to keep your secrets to yourself.
Potentially Sensitive Areas: Drugs, Mild sexual themes, Strong language, Underage drinking
Book Trailer
Author Interview
Reviews
Booklist (November 1, 2018 (Vol. 115, No. 5))
Grades 9-12. McManus follows up her smash hit debut, One of Us Is Lying​ (2017), with another twisted mystery centered around wily teens. Echo Ridge is an idyllic small town in all ways but one: five years ago, homecoming queen Lacy Kildare was strangled, her body left in the presciently named Murderland theme park. The park changed its name, but the town never moved on—Lacy's body may have been the first one to turn up, but she wasn't the first girl to go missing. Ellery and her twin brother, Ezra, have just moved to Echo Ridge to live with their grandmother while their mom, whose own twin vanished in high school, undergoes a stint in rehab. When another girl goes missing, true-crime obsessive Ellery is determined to find the truth. But Echo Ridge is dangerous, and she and her family may be more involved than she knows. This is as much a social commentary as it is a layered mystery, and a somewhat abrupt finale won't keep readers from speeding their way to the end.
Kirkus Reviews starred (October 15, 2018)
History threatens to repeat itself in a small town known for disappearing teen girls. When their mother is suddenly sent to rehab, twins Ellery and Ezra Corcoran are uprooted from California to live with their grandmother in Vermont. True-crime–obsessed Ellery knows the town is infamous for girls going missing. Her own aunt, her mother's twin, disappeared 23 years ago, never to be found. Just five years ago, Lacey Kilduff was found murdered in nearby Murderland, a Halloween theme park. All eyes are on the twins as the new kids in town, and Ellery's pulled between the popular girls and Malcolm Kelly, the younger brother of Declan, Lacey's boyfriend and the person everyone suspects murdered her. Disturbing acts of vandalism pop up, threatening a sequel to events at Murderland. When Ellery's nominated for homecoming queen, the threats begin to target her and the other princesses, and no matter what he does, Malcolm keeps ending up at the wrong place at the wrong time, making for an easy scapegoat. Alternating between Ellery's and Malcolm's perspectives, the mystery unfurls at a deliciously escalating pace, filled with believable red herrings and shocking twists. Readers will furiously turn pages until the satisfying end. Though the students are predominantly white, Ellery and Ezra are biracial (white and Latinx), and Ezra is gay. Malcolm is white, and his best friend is a bisexual Korean-American girl. Masterfully paced with well-earned thrills and spooky atmosphere worth sinking into. (Thriller. 14-18)
About the Author
Karen M. McManus earned her BA in English from the College of the Holy Cross and her MA in journalism from Northeastern University. When she isn't working or writing in Cambridge, Massachusetts, McManus loves to travel with her son. One of Us Is Lying is her debut novel.
Her website is www.karenmcmanus.com.
Around the Web
Two Can Keep a Secret on Amazon
Two Can Keep a Secret on Barnes & Noble
Two Can Keep a Secret on Goodreads
Two Can Keep a Secret on LibraryThing
Two Can Keep a Secret Publisher Page