Let's Go Swimming on Doomsday by Natalie C. Anderson. January 15, 2019. G.P. Putnam's Sons Books for Young Readers, 352 p. ISBN: 9780399547614.  Int Lvl: YA; Rdg Lvl: YA.
Forced to become a child soldier, a sixteen-year-old Somali refugee must confront his painful past in this haunting, thrilling tale of loss and redemption for fans of A Long Way Gone and What is the What 
When Abdi's family is kidnapped, he's forced to do the unthinkable: become a child soldier with the ruthless jihadi group Al Shabaab. In order to save the lives of those he loves, and earn their freedom, Abdi agrees to be embedded as a spy within the militia's ranks and to send dispatches on their plans to the Americans. The jihadists trust Abdi immediately because his older brother, Dahir, is already one of them, protégé to General Idris, aka the Butcher. If Abdi's duplicity is discovered, he will be killed.
For weeks, Abdi trains with them, witnessing atrocity after atrocity, becoming a monster himself, wondering if he's even pretending anymore. He only escapes after he is forced into a suicide bomber's vest, which still leaves him stumps where two of his fingers used to be and his brother near death. Eventually, he finds himself on the streets of Sangui City, Kenya, stealing what he can find to get by, sleeping nights in empty alleyways, wondering what's become of the family that was stolen from him. But everything changes when Abdi's picked up for a petty theft, which sets into motion a chain reaction that forces him to reckon with a past he's been trying to forget.
In this riveting, unflinching tale of sacrifice and hope, critically-acclaimed author Natalie C. Anderson delivers another tour-de-force that will leave readers at the edge of their seats.
Potentially Sensitive Areas: Mild sexual themes, Strong language, Violence, Torture
Reviews
Kirkus Reviews (December 15, 2018)
Abdi's feelings of guilt begin when his brother Dahir is kidnapped by the jihadi group Al Shabaab in Mogadishu, Somalia, and he believes it is his fault. When American government operatives capture Abdi and his family and offer him a deal—their freedom in exchange for his infiltrating Al Shabaab—he believes he hasn't much choice. Dahir has risen in the ranks, making Abdi useful to those hunting the group's leaders. Abdi's account shifts between his time undercover and his present in Sangui City, Kenya, following his escape. Sam, a white American working with the United Nations who is grappling with her own guilt over leaving a Christian cult, meets Abdi and finds him a place in a refugee girls' boarding school by day, allowing him to sleep in her spare room. News of a possible placement in a foster family triggers an emotional deluge in which Abdi reveals all he's been through. In a dramatic climax, Abdi must decide whether family and trust will triumph over fear. At times the dialogue between Sam and Abdi feels fanciful and the story drags with unnecessary detail, with some characters feeling underdeveloped. However, this is a riveting account of young people living through violence which successfully illustrates the nuance of intent among the jihadi fighters. Greed, guilt, and redemption are layered in a sober yet tender narrative showing the lengths one will go to for loved ones. (Fiction. 14-18)
School Library Journal (January 1, 2019)
Gr 7 Up-Abdi is just 12 years old when his older brother Dahir is kidnapped by Al Shaabab, an infamous Somali militia. Abdi feels guilty knowing that he might be the reason his brother was captured. Three years later, Abdi and his remaining family members are kidnapped by African Union Mission in Somalia. AMISOM is a collaborative effort between U.S. forces and the Somali army. After being brutally beaten by AMISOM soldiers for days, Abdi is brought before Mr. Jones, an American government official. Mr. Jones tells Abdi that Dahir is alive and is now a commander in Al Shaabab's militia. Mr. Jones offers the possibility for a new life for Abdi and his family in exchange for his infiltration of Al Shaabab's army. Abdi agrees, believing that with luck, he might save his family and his brother. Abdi infiltrates Al Shaabab only to learn that Dahir has been brainwashed completely. Abdi's rescue attempt goes awry and he is forced to hideout in a refugee home for girls. The relationship he builds with the girls and his social worker slowly helps Abdi to remember who he is. An intriguing examination of ways familial loyalty and guilt can lead anyone to make desperate choices. Anderson uses the exploration of manipulation and coercion to craft a thought-provoking narrative.
About the Author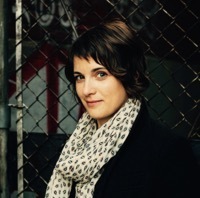 Natalie C. Anderson is a writer and international development professional living in Boston, Massachusetts. She has spent the last decade working with NGOs and the UN on refugee relief and development, mainly in Africa. She was selected as the 2014-2015 Associates of the Boston Public Library Children's Writer in Residence, where she wrote her debut novel, City of Saints and Thieves.
Her website is www.nataliecanderson.com.
Around the Web
Let's Go Swimming on Doomsday on Amazon
Let's Go Swimming on Doomsday on Barnes and Noble
Let's Go Swimming on Doomsday on Goodreads
Let's Go Swimming on Doomsday on LibraryThing
Let's Go Swimming on Doomsday Publisher Page