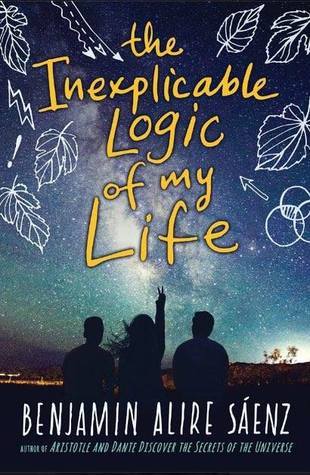 The Inexplicable Logic of My Life by Benjamin Alire Sáenz. March 7, 2017. Clarion Books, 464 p. ISBN: 9780544586505.  Int Lvl: YA; Rdg Lvl: YA; Lexile: 450.
The first day of senior year:
Everything is about to change. Until this moment, Sal has always been certain of his place with his adoptive gay father and their loving Mexican-American family. But now his own history unexpectedly haunts him, and life-altering events force him and his best friend, Samantha, to confront issues of faith, loss, and grief.
Suddenly Sal is throwing punches, questioning everything, and discovering that he no longer knows who he really is—but if Sal's not who he thought he was, who is he?
Potentially Sensitive Areas: Strong language; Underage drinking; Mention of drug use
Video Review
Reviews
Booklist (November 15, 2016 (Vol. 113, No. 6))
Grades 9-11. Seventeen-year-old Sal has had both bad luck and great luck with family. His mother died when he was three, but she ensured he would be adopted by her best friend, Vicente, a loving gay man who brings with him a large, welcoming Mexican American family. He has also been blessed with his best friend, Sam, a girl with mother issues. Sal has mostly led a tranquil life, but his senior year turns out to contain unexpected upsets and sorrows, though also deeper chances to understand love. Sáenz presents readers with several beautifully drawn relationships, especially that of Sal and his grandmother, who is dying of cancer—there is richness even in their silences. There are also some wonderful moments between father and son, though Vicente's perfection as a parent can defy belief (not surprisingly, he's compared to Atticus Finch). There are times when the story is weighed down by repetitive conversations, but there are numerous heartfelt moments as well. Sal is one of those characters you wonder about after the book is closed. Maybe Sáenz will tell us more.
Horn Book Magazine (March/April, 2017)
Seventeen-year-old Salvador has always been close to his single, gay, adoptive father; his loving grandmother, Mima; his extended Mexican American family; and his loyal best friend, Samantha. After getting into two fistfights at the start of senior year, Sal finds that he's "starting to ask myself a lot of questions that I never used to ask. I used to be okay with everything, and now I was going around hitting people." Things get more complicated after Mima's cancer returns, Sam loses her mother in a car accident (and moves in with Sal and his father), and Dad reconnects with an old flame and begins dating again. As mild-mannered, self-effacing Sal narrates his story, readers gradually come to feel the profound importance of family and friends, the dignity and worth of the human spirit, and the transcendent power of love. Saenz's distinctive prose style is lyrical and philosophical: "Salvie, I have a theory that you can't sell yourself on an application form because you don't believe there's much to sell. You tell yourself that you're just this ordinary guy…There's nothing ordinary about you. Nothing ordinary at all." jonathan hunt
About the Author
Benjamin Alire Sáenz was born in 1954 in his grandmother's house in Old Picacho, a small farming village in the outskirts of Las Cruces, New Mexico in 1954. He was the fourth of seven children and was raised on a small farm near Mesilla Park. Later, when the family lost the farm, his father went back to his former occupation—being a cement finisher. His mother worked as a cleaning woman and a factory worker. During his youth, he worked at various jobs—painting apartments, roofing houses, picking onions, and working for a janitorial service. He graduated from high school in 1972, and went on to college and became something of a world traveler. He studied philosophy and theology in Europe for four years and spent a summer in Tanzania. He eventually became a writer and professor and moved back to the border—the only place where he feels he truly belongs. He is an associate professor in the MFA creative writing program at the University of Texas at El Paso, the only bilingual creative writing program in the country. Ben Sáenz considers himself a fronterizo, a person of the border. He is also a visual artist and has been involved as a political and cultural activist throughout his life. Benjamin Sáenz­ is a novelist, poet, essayist and writer of children's books.
His website is http://faculty.utep.edu/Default.aspx?alias=faculty.utep.edu/bsaenz.
Teacher Resources
The Inexplicable Logic of My Life Discussion Questions
Around the Web
The Inexplicable Logic of My Life on Amazon
The Inexplicable Logic of My Life on Goodreads
The Inexplicable Logic of My Life on JLG
The Inexplicable Logic of My Life Publisher Page